The New Disney Princess Book Tag ||
I recently saw the New Disney Princess Book Tag over on Jamishelves' blog, and though it looked like so much fun. So I'm being a horrible person and going ahead and stealing it. But I mean, I feel like it's warranted because DISNEY. That said, though, you should all go check out Jami's blog
HERE
, because it's fabulous, and I adore her reviews. ^-^
Mention where you saw the tag/thank whoever tagged you because that's always good fun
Tag Mandy @ Book Princess Reviews and Zuky @ BookBum so they can check out the wonderful Princess fun throughout the blog world
Play a game of tag at the end!
Favorite debut book from an author
The Accident Season by Moira Fowley-Doyle was one of the most striking magical realism stories I've ever read. Not only was her writing super gorgeous, but the twists and turns included within the book absolutely boggled my mind.
Cinderella- A diamond in the rough
Just like Cinderella, you didn't expect much from this character in the beginning, but they turned out to be a total gem
I was SO turned off by Hanna's character at the beginning of Gemina. I missed Kady from Illuminae, and thought Hanna would just continue to be a stuck-up brat with little to no character development. I couldn't have been more wrong, though, as her character did such a perfectly executed 180, and quickly became one of my favorites. She's an absolute badass.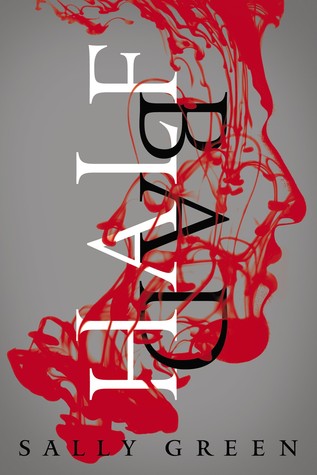 Aurora- Sleeping Beauty
A book that made you sleepy/couldn't hold your attention
Half Bad is lowkey famous in my household as the book that was the absolute worst thing I ever tried to struggle through. It gave me such a headache, and I complained about it incessantly to anyone who would listen. Definitely didn't hold my attention in the slightest.
A book with a water/ocean setting
How to Make A Wish is an amazing f/f contemporary I read last month, and the ocean-side town it takes place in sounds like such a dreamy location.









A book where the character is a bookworm
I'm pretty sure Lazlo from Strange the Dreamer is the biggest bookworm to ever appear in a ya book. He's absolutely obsessed with stories, he works in a library (!!), and his nose is crooked... because a hardcover book fell on it and broke it. #same


Name a book with an unlikely love story (either in terms of romance or a book you didn't expect to love so much)
I didn't expect to love The Animal Under the Fur because I usually have such a tumultuous time with new-adult romances, but it was SO good, and I have all the love for the copious spy elements it featured.
Pocahontas- Real Life Princess
Name a book based on a real life person you have read/want to read
I rarely read anything that talks about real people, but I read You're Never Weird on the Internet by Felicia Day a while back and absolutely adored it. Charlie is one of my favorite Supernatural characters, and Felicia quickly became one of my favorite actors, after reading about her life story + all her crazy antics. The book also gave such an important look at the stigma of gamers, and how horrendously female players are treated. It's definitely one of my favorites from this year.
The fiercest heroine you know
I have this kind of all-consuming love for Nina from Six of Crows, and she's definitely one of my favorite heroines. I relate to her a lot (#WafflesFTW), and absolutely love her story + abilities. <3








Tiana- The Princess with the Coolest and Most Diverse Crew
Name a diverse book, whether it is a diverse set of characters or just diverse in general
I couldn't narrow it down to one, because I've read so many exceptional diverse books this year. Some favorites are: Labyrinth Lost by Zoraida Cordova, When Dimple Met Rishi by Sandhya Menon, Queens of Geek by Jen Wilde, and The Upside of Unrequited by Becky Albertalli. All are diverse in different ways; representing different sexualities, races, cultures, afflictions, or body shapes, and I honestly can't recommend them enough.
The longest book you've ever read
Excluding Harry Potter, of course, the longest book I've read is The Lies of Locke Lamora by Scott Lynch. I usually stray far, far away from books 500+ pages, but I'd heard nothing but good things about The Lies of Locke Lamora, and the 720 page volume definitely didn't disappoint.
A story with no love interest/story
*slams This Savage Song down and screeches*
A book in a winter/cold setting
Shiver encapsulates the biting cold of winter so well, and while it may not be Stiefvater's best work (although I definitely think Cole and Isabel are THE best characters she's ever created), it still remains my favorite, both for the nostalgia it invokes, and the beautiful winter setting in which it takes place. And I mean, I love my sweet, moody boy Sam so much.






A Character that Goes On A Journey
I was trying to think of a unique answer to this one, and while looking through my Goodreads shelves, I remembered Salt to the Sea by Ruta Sepetys. It's about both the physical and emotional journey four people take as they flock to escape from war in 1945, and it's utterly heartbreaking and so damn poignant + raw.




And there we go! That was the New Disney Princess Book Tag! I absolutely love book tags that center around things like this, and hope you enjoyed! If you want to do this, consider yourself tagged. Steal it from! I beg of you!
LET'S CHAT! Who is your favorite Disney princess? (Mine's Merida/Mulan) Any good books you've read based off/about a real person? TELL ME ALL THE THINGS AND LET'S DISCUSS.