Royal Bastards: Andrew Shvarts || ARC Review
"Damn." Jax shook his head. "Not that I had much love for those guys, but it's a hell of a way to go. Makes you almost feel bad for them."

"I don't," Zell said.

"Yeah, well, you basically don't have emotions between 'gotta kill' and 'yay, I killed,' so that's not really a surprise."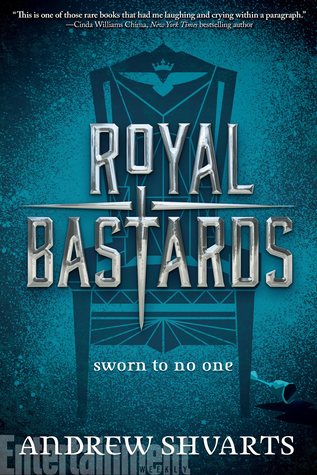 Release Date: June 6, 2017
Purchase: Amazon // Barnes and Noble // The Book Depository //
Being a bastard blows. In
Royal Bastards,
the bastards of nobles witness their parents instigate a violent coup, and must band together to get the truth to the king before their kingdom plunges into civil war. With an addicting ensemble cast of characters, life-or-death stakes, and tongue-in-cheek humor, this fantasy novel, the first in a trilogy, dares readers to put it down, and makes a perfect crossover read.
(Thank you to the publisher for providing an arc via Netgalley!)
Royal Bastards was one of my most anticipated reads for 2017, and while it didn't end up living up to all of my expectations, it was a pretty good start to a series that I am now wholeheartedly looking forward to more of.
The real shining glory of Royal Bastards was the cast of characters.
Although the book follows only the PoV of Tilla, the characterization was so well done that it almost felt like you
had
been inside every one's head at some point throughout the book-- you got such a real sense of who everyone was, what drove them, and why their character behaved the way they did. The group was so diverse +
ragtag, and I honestly just fell in love with all of them.
(Except he who shall not be named because SPOILERS)
The princess Lyriana was PoC (!!) and an utter sweetheart, Jax was my snarky little fave, and Zell stayed on the right side of the fine line of not being an ass, and actually having feelings. Tilla herself wasn't my favorite protagonist I've read about, but I did absolutely adore how Shvarts shook up the typical trope of a "strong" female, and gave us someone who wasn't afraid to admit that her biggest desire was to have nice dresses, take part in royal life, and live in a fancy town-home.
The book definitely shakes things up by not following the typical fantasy style prose, with its use of modern language. Tilla uses a lot of words that you don't usually find in ya fantasy, like 'awesome,' and other slang. There were moments where the phrases felt almost juvenile near the beginning, but as the story progressed, I quickly grew used to the way of speaking. It not only added so much more fun to the snark and sarcasm the characters dealt out (which was often + fantastic), but made the whole reading experience go ten times faster. It definitely took away a lot of the strife I usually have with fantasy books + their thickness, and it made it super easy to bang out chapter after chapter. I feel like the choice to use a modern tone was great, and I think it'll make the book so much more accessible to everybody. I know there's a lot of people who don't like fantasy because of how it's usually written, and this one definitely has an easy flow that I think will appeal to even those who avidly hate fantasy.
My main disappointment with Royal Bastards ended up being its plot.
As somebody who reads a
lot
of ya, and especially a lot of ya fantasy, I was bummed to be greeted with a story that failed to bring anything really
new
to the table. You had the group of "chosen ones" outcasts, along with warring kingdoms, a partial love triangle, and a helluva lot of Lord of the Rings-esque traveling
(which is the bane of my existence)
. While there was a partially unique spin on all of these things in some part, it still wasn't enough to separate it from a lot of other ya fantasies, until about the last 30 pages when there was the faint glimmer of something fresh to come. The ending has me excited to see where the next book goes; the plot veered quickly away from what I was expecting, and turned a lot of things on their heads. I'm hopeful that the next book follows this trend, and that the series gets more original as time goes on.
And this isn't really an issue I personally had with the book, but I wanted to mention it anyways.
Royal Bastards ended up being surprisingly stabby and violent??
I absolutely love all things assassin/bloody, but I know some don't.
For a brief second I had flashbacks to
Prince of Thorns
, and while this didn't quite reach that level, the modern way of speaking seemed to open the gates for more gory descriptions of battles and wounds given to characters that provide quite the clear mental picture. While it personally didn't affect me, I thought it warranted mention for those who are more squeamish. It's not
horribly
grotesque
, and it's often quick + blunt, but it's there, and heads certainly do roll.
Overall, Royal Bastards had some nice twists on the typical ya fantasy books. With its more modern tone, I feel like it'll be such a good gateway book for those who want to read more fantasy, but hate the thick writing style of most books that fall in the genre. And while part of the plot may seem familiar to those who consume a lot of fantasy books
(I've read only like three contemporaries this year y i k e s)
,
the ending set up for a story that I think will stray far from other ya stories, and has me excited to see where the series goes.
LET'S CHAT! Where are my fantasy loving people? What do you think of Royal Bastards-- are you going to give it a try? If you've read it, what did you think? And what's your favorite fantasy book of all time?? Tell me all the things!