Tash Hearts Tolstoy: Kathryn Ormsbee || Review
"I don't get it. How can people judge sex appeal as easily as that? By a simple video, one narrow look at a human, people whittle them down to a single quality. I sometimes wonder if that's how most people are wired: to assess procreational potential on first glance. It seems so animalistic, so superficial. But it also seems so... essential. Such a basic part of everyone around me. Which leads to the inevitable question: Am I missing something essential?"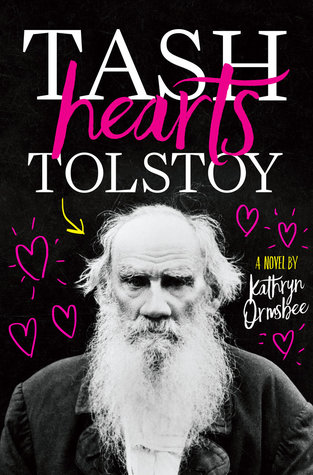 Release Date: June 6th, 2017
Publisher: Simon & Schuster
Purchase: Amazon// Barnes and Noble// The Book Depository//
After a shout-out from one of the Internet's superstar vloggers, Natasha "Tash" Zelenka finds herself and her obscure, amateur web series, Unhappy Families, thrust into the limelight: She's gone viral.
Her show is a modern adaptation of Anna Karenina—written by Tash's literary love Count Lev Nikolayevich "Leo" Tolstoy. Tash is a fan of the forty thousand new subscribers, their gushing tweets, and flashy Tumblr GIFs. Not so much the pressure to deliver the best web series ever.
And when Unhappy Families is nominated for a Golden Tuba award, Tash's cyber-flirtation with Thom Causer, a fellow award nominee, suddenly has the potential to become something IRL—if she can figure out how to tell said crush that she's romantic asexual.
Tash wants to enjoy her newfound fame, but will she lose her friends in her rise to the top? What would Tolstoy do?
Tash Hearts Tolstoy
was an utter dream come true for me. I feel like Kathryn Ormsbee just plucked all the things I like out of my head and smashed them together into the book I've waited y e a r s to read.
I'm still at the point where it fills me with a little bit of anxiety to associate the word asexual with myself, but I've really come to the point this year where I've realized just how strongly I identify with asexuality and ace people, and that
that's okay
. Reading
Tash Hearts Tolstoy
and hearing Tash's thoughts, was like reading my own. All her fears and questions were things I've thought countless times, and I can't even begin to explain how much of a relief and comfort it was to finally find a character in literature that I could relate to so entirely. I was unfortunately in the middle of a road-trip while I devoured this so I didn't have access to my page markers + couldn't highlight passages like I wanted to, but god, there were so many quotes throughout the book that resonated so deeply with me. I can't even tell you how nice it feels to see positive representation for the first time of who you are.
While Tash Hearts Tolstoy was, for a large part, about Tash + her web series' rise to fame, the book also explored asexuality on a pretty in-depth level,
and how it works when it comes to asexual people in relationships. The book showed both the good and the bad, and the different reactions people can have when it deals with coming out as ace. The book wasn't all fluff and fun, and for that I'm immensely grateful. It's hard to see people treat you horribly for feelings you can't control, and yet, I'm grateful to the author for representing it and giving the reminder that while there are always going to be some people who are assholes, there's also the kind, caring ones who don't give an eff about who you love, and how you do so.
Aside from the ace rep, a lot of the book focused on Tash's dream to direct and study film.
This was the other thing that had me flailing with joy, because that's what I hope to do + study, too. Reading about Tash directing her web series, and all the work that went into the project, fascinated me to no end (as most production + media stuff does tbh) and I enjoyed it
so
much. A lot of Tash's thoughts on college + the practicality of pursuing film as a viable career choice were also so easy to relate to. I've truly never felt so connected to a character before as I do to Tash. The relatability scale will obviously differ with everyone, but for me, the book couldn't have been more raw and real. I definitely think there's something small for everyone to connect to within the book.
My only real quibble with the book was with some of the secondary characters.
The cast of Tash's web series was thrown at you all at once, with a separate paragraph dedicated to explaining who every one was, all in one chapter. It was disorienting to have everyone in the cast thrown at me at once, and I don't feel like most of them were ever truly fleshed out to the point where the introduction such as that was needed. I feel like it would've flowed better to just have more brief details about the less important few later on, when they briefly interacted with Tash. That said, though, the secondary characters who did make more than a few appearances, like Tash's neighbors, + best friends, were all fantastic, and I absolutely loved them to bits. Jack was sometimes pretty callous, but I loved her spunk + passion, and Paul was just plain adorable, + so pure.
I'm trying not to ramble too much so I don't spoil the plot,
but I honestly can't rave about
Tash Hearts Tolstoy
enough. The family dynamics were great (Tash's father is Cuban + her mother is from New Zealand !!), the dry sarcastic humor was my everything, and while I didn't learn
quite
as much about Tolstoy as I had hoped, I did still learn a helluva lot about his life and his works.
Tash Hearts Tolstoy
has quickly become a new favorite of mine. It's a book that I think will not only comfort other aces who have searched for books that feature people like them, but will be so incredibly important and educational to others.
Tash Hearts Tolstoy was 100% the perfect way to end pride month. <3
★★★★★
LET'S CHAT! Have you read Tash Hearts Tolstoy? Thoughts? What's your favorite LGBTQ+ book? Favorite LGBTQ+ character? (mine's Neil Josten. Obviously.) TELL ME ALL THE THINGS.